'Building Healthy Digital Habits' is a collaboration between Instagram, The Jed Foundation (JED) and Young Leaders for Active Citizenship (YLAC). The guide has been adapted for India from the toolkit titled 'Pressure to be Perfect' and has been launched by the Central Board of Secondary Education (CBSE) for training students and teachers on digital well-being.

With a focus on teenagers of ages 13 to 18, the guide features a lesson plan that can be used to conduct workshops to engage young people in conversations about their time online and its impact on their socio-emotional well-being. It can also be used as a self-serve guide for introspection and learning about safe and effective ways to manage online interactions.

Ultimately, 'Building Healthy Digital Habits' is a guide book, not a rule book. The goal is to give young people the confidence and realization that they are in-charge of their time online and their experience depends on how effectively they respond to the challenges that come with online interactions. While the guide provides tools for well-being on Instagram, its learnings can be extended to other social media platforms as well.
---
Pillars of Digital Well-Being

In particular, the guide focuses on the following five key pillars of digital well-being. It talks about the different ways in which young people can share content with sensitivity, while responding with kindness. The guide also encourages people to be conscious consumers of information and to maintain a healthy balance between online and offline activities.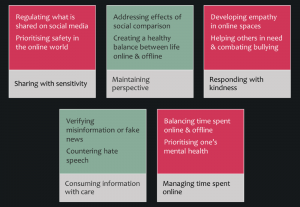 ---
The Guide Book