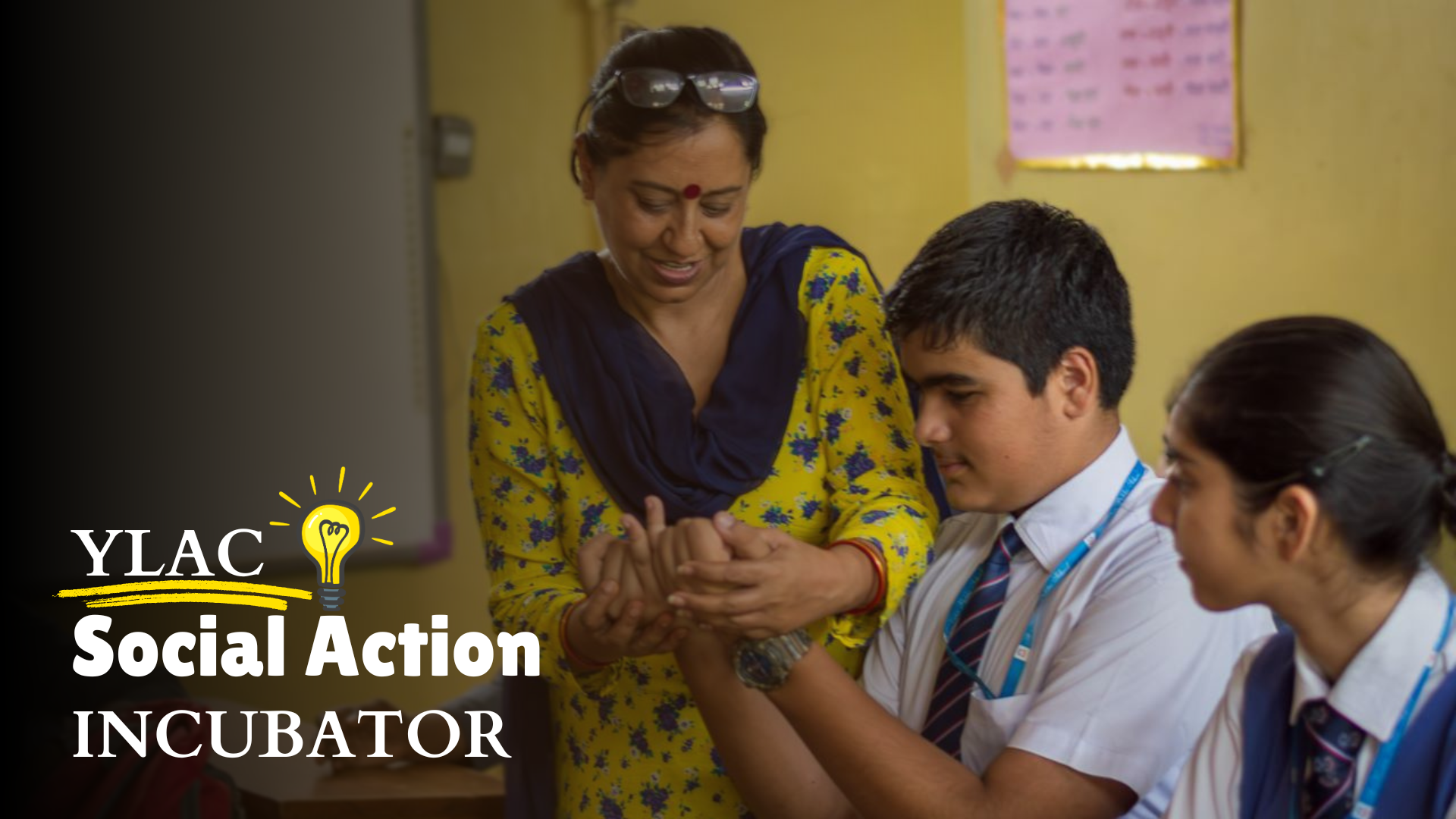 Showcase 3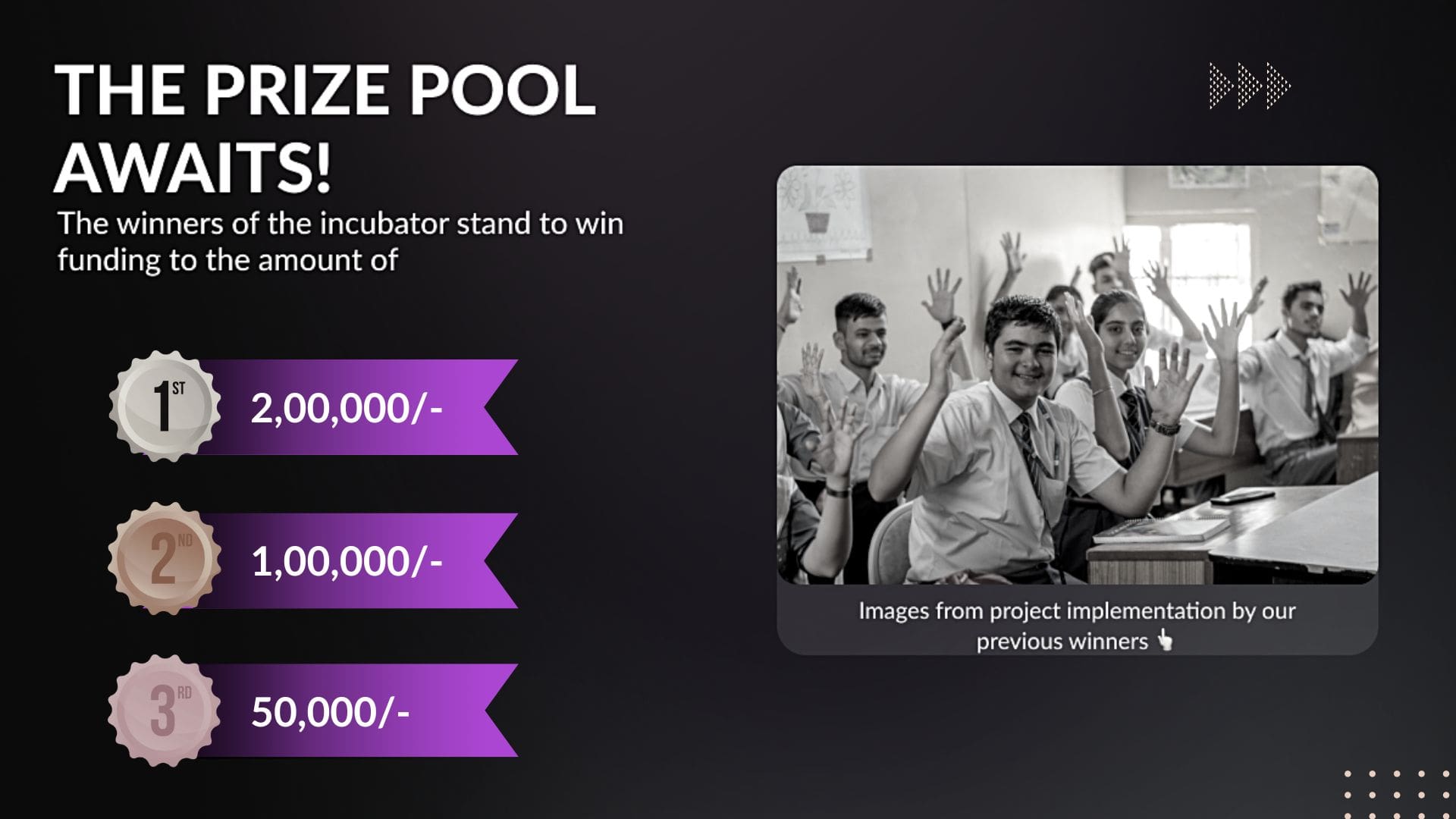 Showcase 3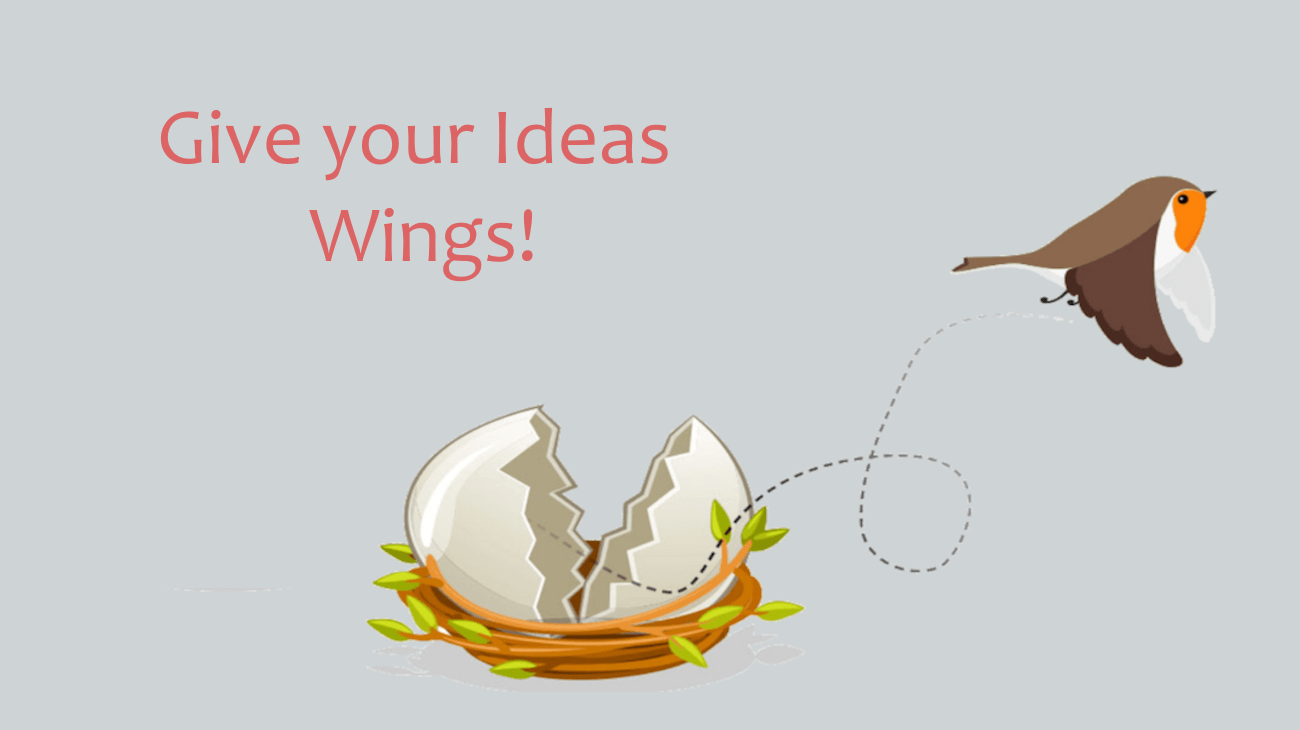 Showcase 3
The YLAC Social Action Incubator is a national-level competition that invites high school students to propose creative solutions to urgent social problems in their schools or communities. The competition offers students the chance to secure funding and mentorship to implement their innovative ideas.
The Incubator has been designed to encourage students to become more familiar with social realities with the aim of cultivating empathy and inspiring students to take proactive action to address existing inequalities. It aims to bolster ecosystems that nurture and support youth-led initiatives, driven by passionate changemakers. The best ideas stand to win funding to the tune of INR 2,00,000 (winner), INR 1,00,000 (1st runner-up) and INR 50,000 (2nd runner-up)!
Registrations for the 2023 edition of the incubator have now closed. Please follow us on social media
(LinkedIn,
Instagram,
Facebook)
for updates on future editions.
See:  
2023 Themes
  |  
Impact So Far
  |  
2023 Timeline
  |  
FAQs
---
2023 Themes
The Incubator extends an invitation to student teams to submit their project ideas, focusing on the following central themes:

---

Gender Equality

Gender equality serves as a foundational principle that upholds fairness, respect, and equal opportunities for individuals, regardless of their gender identity. It transcends the conventional binary view of gender (male and female) and seeks to establish a society where everyone's rights, ambitions, and abilities are equally respected, irrespective of their gender expression. It strives to break down societal stereotypes and prejudices that limit individuals based on traditional gender norms.

---

Economic Equality

Economic equality is a crucial concept that aims to create a fair and just society where every individual has an equal opportunity to access resources, benefits, and opportunities regardless of their socioeconomic background. It recognizes that some individuals face systemic barriers and discrimination that hinder their economic progress, and it aims to dismantle these barriers to create a level playing field for all. In practical terms, economic equality calls for policies and initiatives that promote social welfare, and aims to uplift marginalized communities, reduce poverty and ensure that everyone has the opportunity to fulfill their potential.

---

Diversity and Inclusion

Diversity and inclusion are fundamental principles that focus on embracing and respecting the uniqueness of individuals and creating an environment where everyone feels valued, heard, and empowered. Diversity encompasses all the ways in which people differ, including race, ethnicity, gender, age, religion, sexual orientation, disability, socioeconomic status, and more. Inclusion, on the other hand, emphasizes the practice of actively involving and integrating individuals from diverse backgrounds into all aspects of society, ensuring equal access to opportunities and resources for everyone.
---
Impact So Far
In the academic year 2022-23, we successfully launched the incubator competition in partnership with our Equality Clubs Program. We received 150+ proposals, and after rigorous rounds of evaluation, awarded the Top 3 teams with monetary and mentorship support to transform their ideas into action.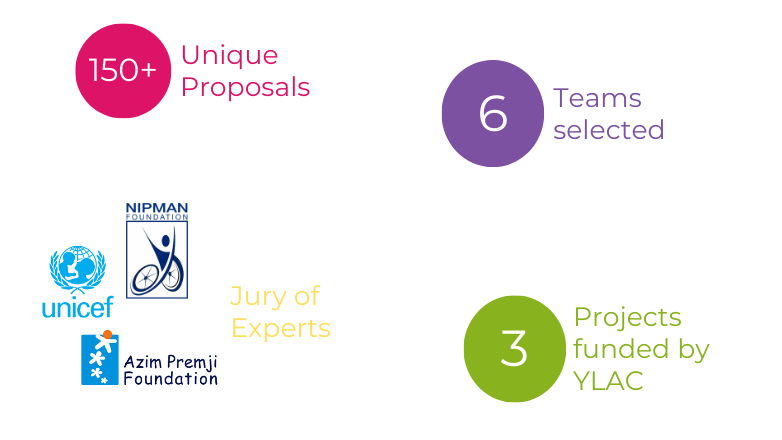 Our three winning teams are now working on incredible projects focusing on disability inclusion, digital literacy and primary education. You can read more about the winning projects in our Incubator Showcase, here.

---
2023 Timeline
Please note the timelines for the 2023 social action incubator.

After your registration is confirmed, you'll be moved to Round I where you'll be required to submit your project idea through a link that'll be shared on email. Your project idea must be submitted before 8th October, 2023. Round I will be followed by Round II and a final Jury Round, following which results will be announced by the 8th of December.

*Please note that these timelines are tentative and subject to change. At every round, only the selected teams will be advancing forward. More details are available in the registration packet sent on email once you submit the incubator registration form.
---
Frequently Asked Questions
Students from grades 8-12 can apply. Please note that students need to form teams of 3-6 students to participate and members in a team need to be from the same school. Each team must also have a teacher in charge. Each team must also assign a team leader and a deputy team leader who will, along with the teacher incharge, remain our primary point of contact.
2. Can students from different schools form a team?
No, students in a team need to be from the same school.
3. Can multiple teams participate from each school?
Yes, multiple teams can participate from the same school.
4. What is the role of the teacher coordinator?
The teacher coordinator will act as the Point of Contact (POC) for each team. Although the teacher in charge is not involved in project ideation or submissions, they will serve as the primary contact person from the school's side. All ideas must be student led. The teacher in charge is only responsible for communicating with the YLAC team.
5. Is there any registration fee?
The registration fee for each team is INR 1000, plus 18% GST, which helps us sustain and support the program, empowering changemakers like you to bring your ideas to life. If there is a strong financial constraint that prevents you from participating, you can write to us at [email protected], and we will consider your situation on a case-by-case basis.
If you are a part of the YLAC Equality Clubs program, you are not required to pay any fee. We request you to contact your Teacher-in-Charge to participate in the program.
6. How will the incubator sessions and meetings be conducted?
To ensure that young changemakers from all corners of the country can easily participate, all sessions will be conducted online. However, students are expected to carry out local field visits and engage with local stakeholders as part of their process to gain deeper insights into the issue they are addressing.
7. How many teams will be shortlisted at each round?
The number of teams shortlisted will be determined by the total number of entries received. Tentatively, in the initial round, we expect to shortlist around 50 teams, in the second round, approximately 10 teams will be shortlisted, and finally, after the jury round, the top 3 teams will be recognized and awarded for their outstanding ideas.
8. What kind of projects can we undertake?
Participants can undertake projects under three main themes: Gender Equality, Economic Equality, and Diversity and Inclusion. Participants can gain more detailed information about these themes and project guidelines through the packet shared during the registration process. You can refer to the previous year's projects here.
9. What prizes can the winners hope to win? How will their ideas be supported?
The incubator aims to nurture and support youth-led initiatives driven by passionate changemakers.
The best ideas stand to win funding to the tune of INR 2,00,000 (winner), INR 1,00,000 (1st runner-up) and INR 50,000 (2nd runner-up)! The YLAC team will also closely mentor the winning teams to transform their ideas into reality.