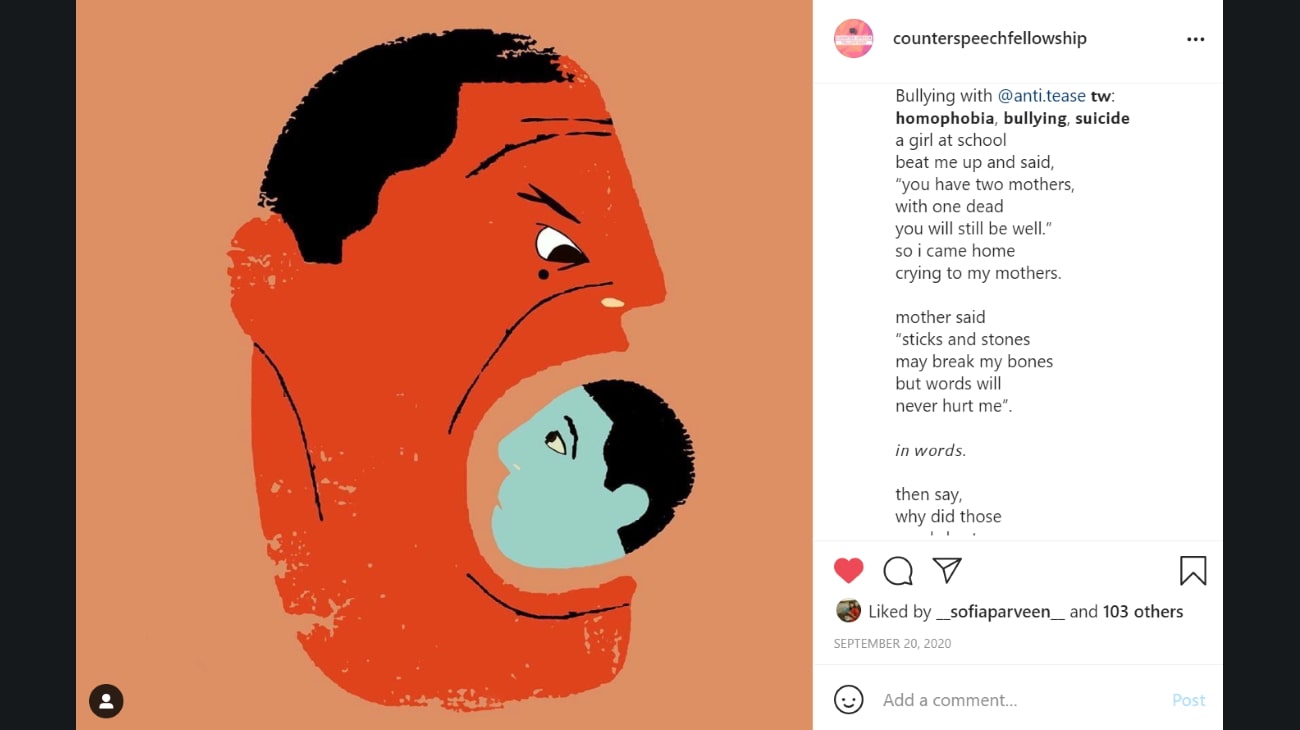 Showcase 3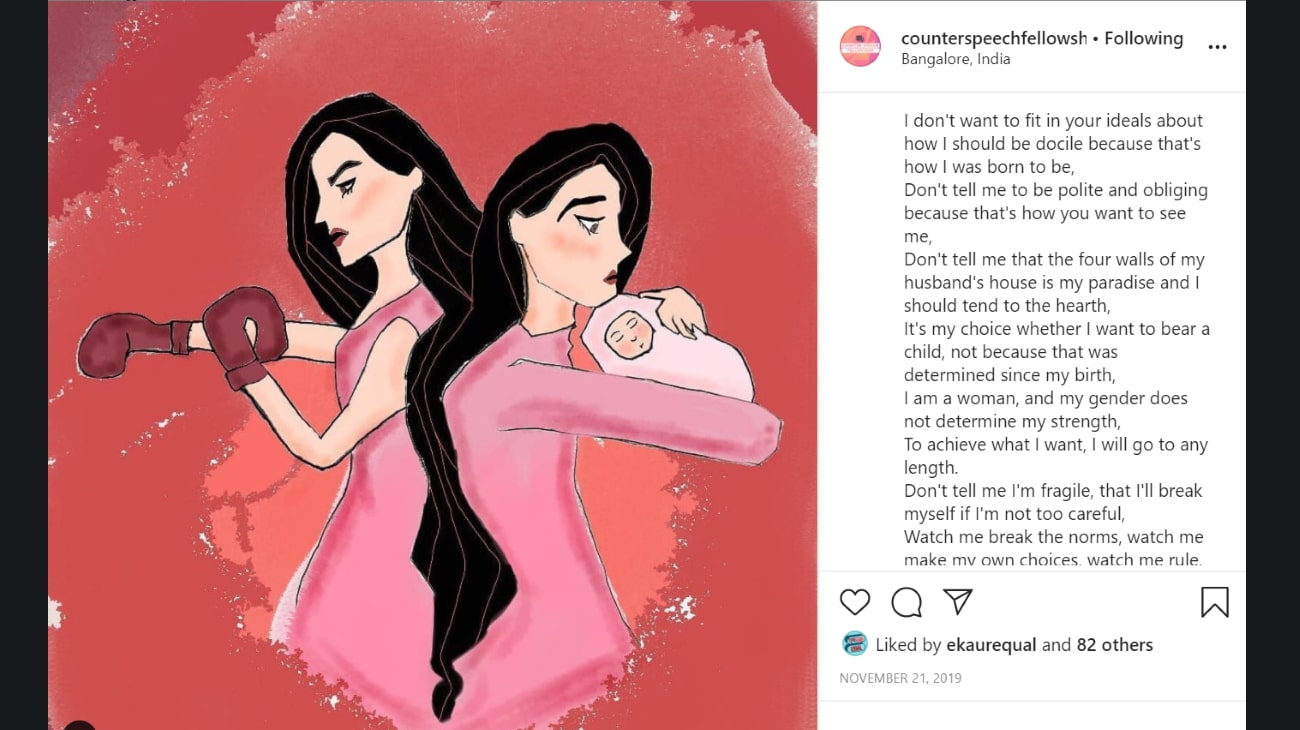 Showcase 1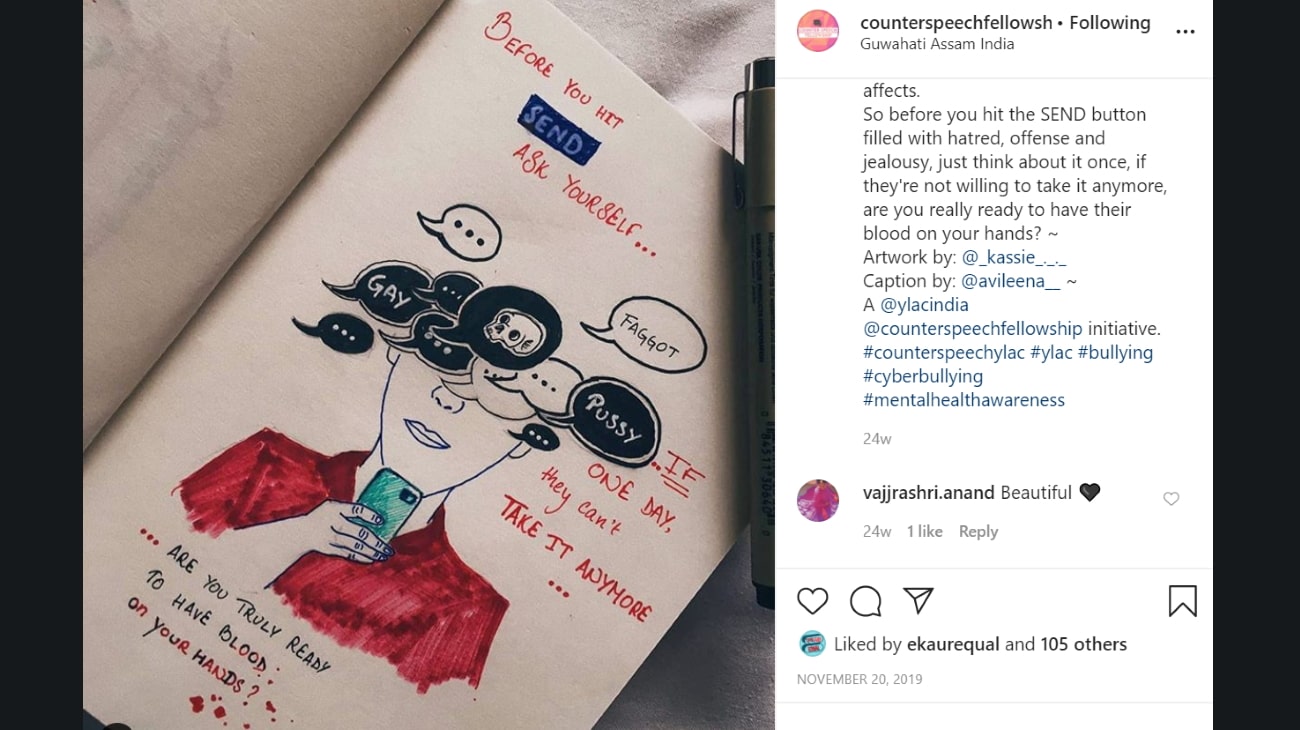 Showcase 2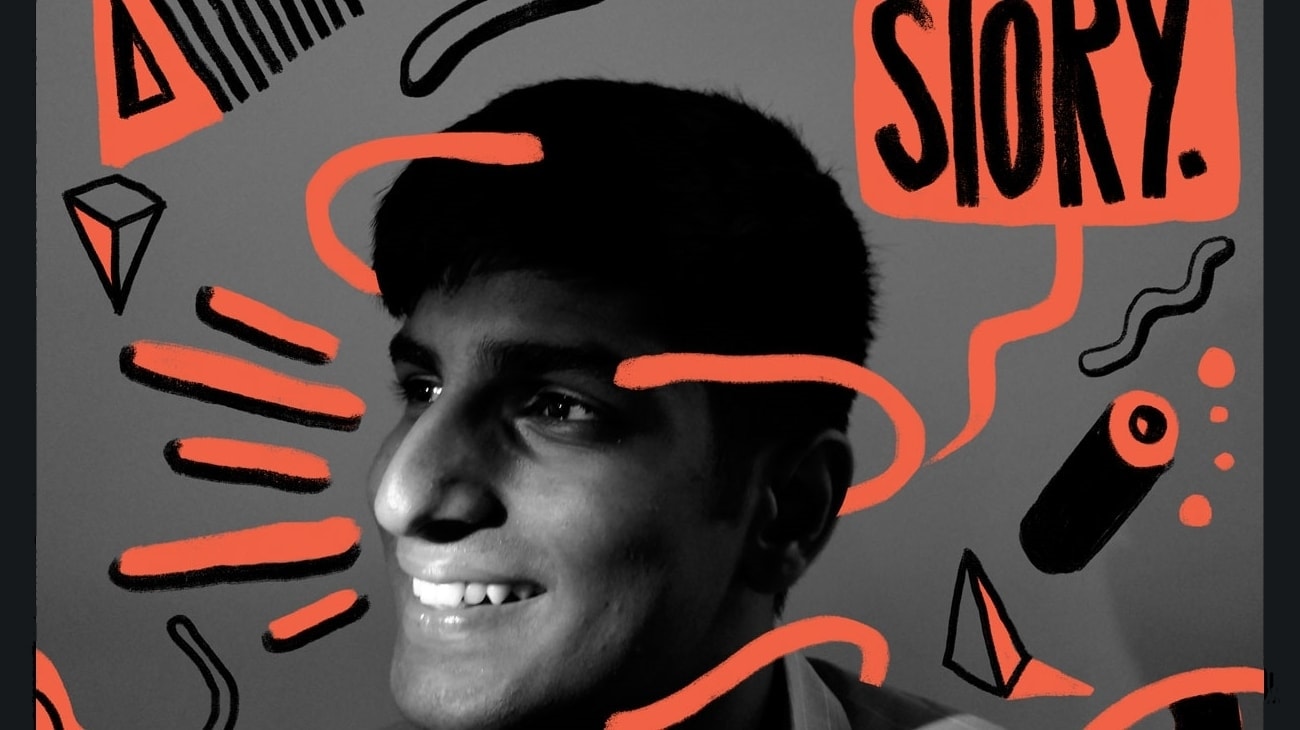 Showcase 3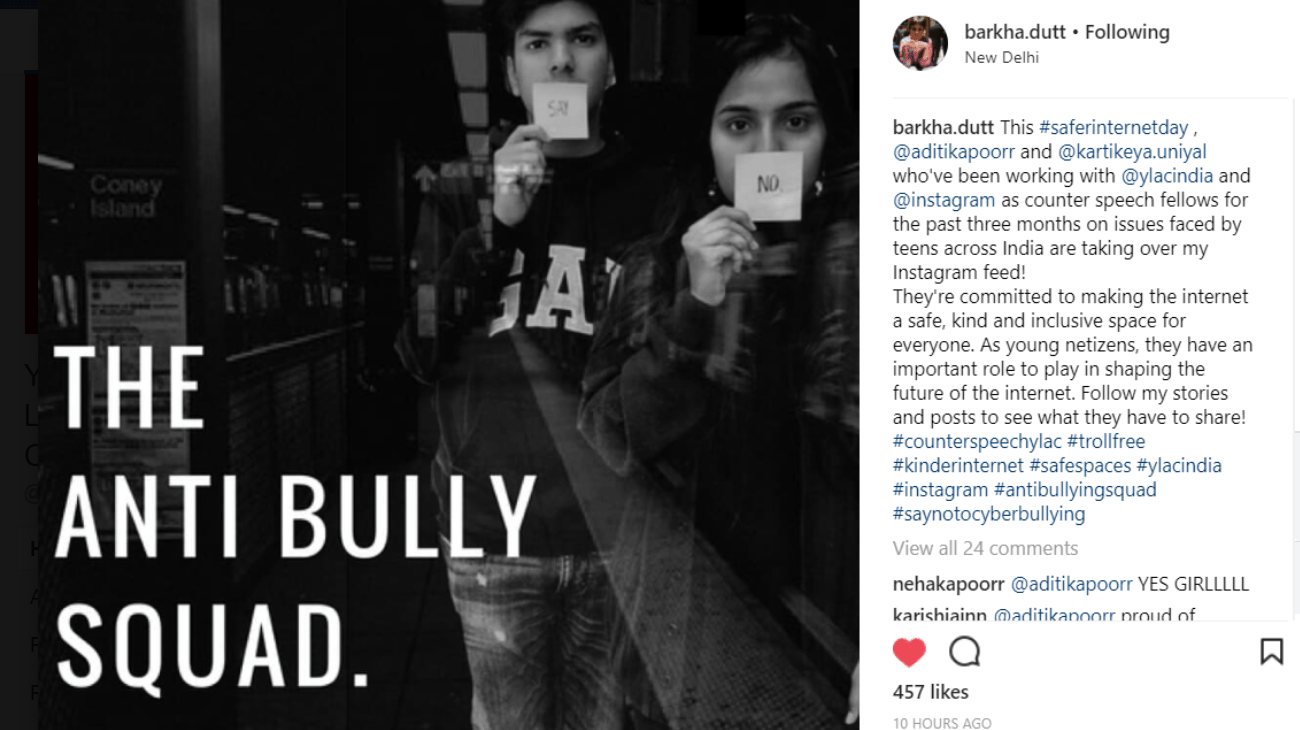 Showcase 3
Showcase 3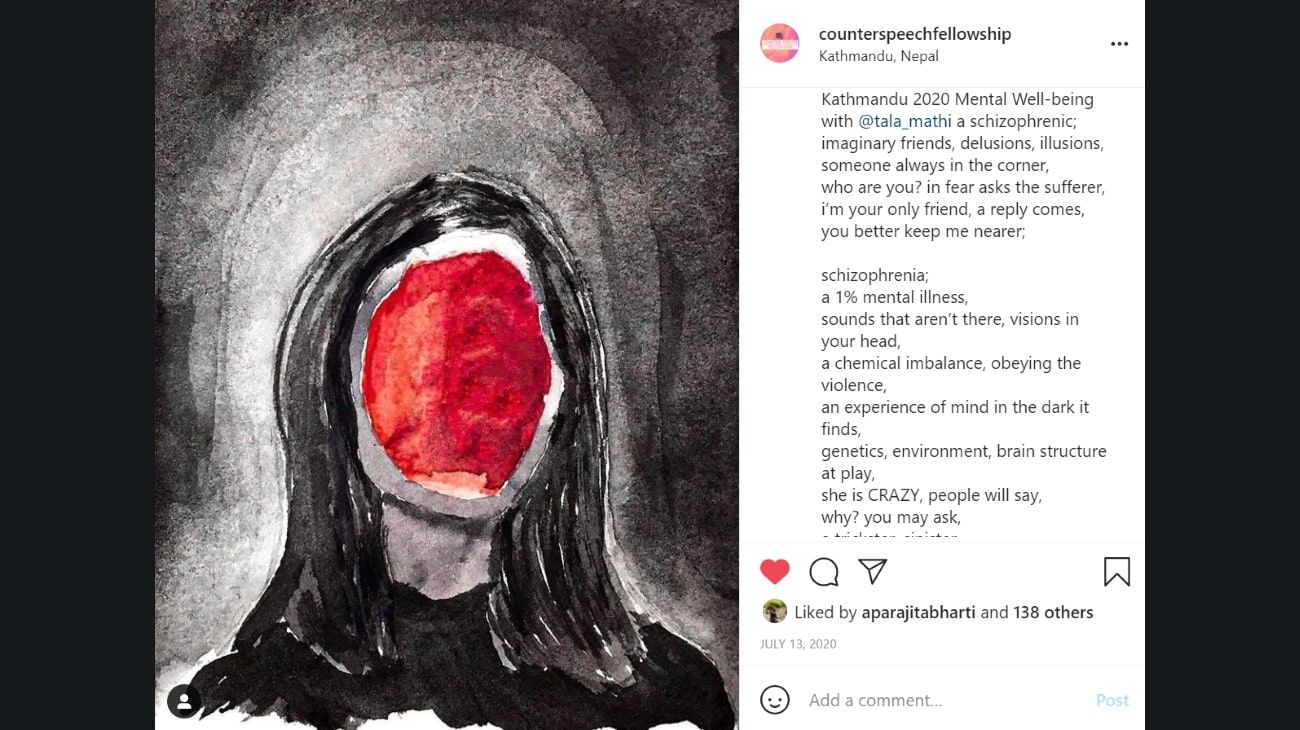 Showcase 3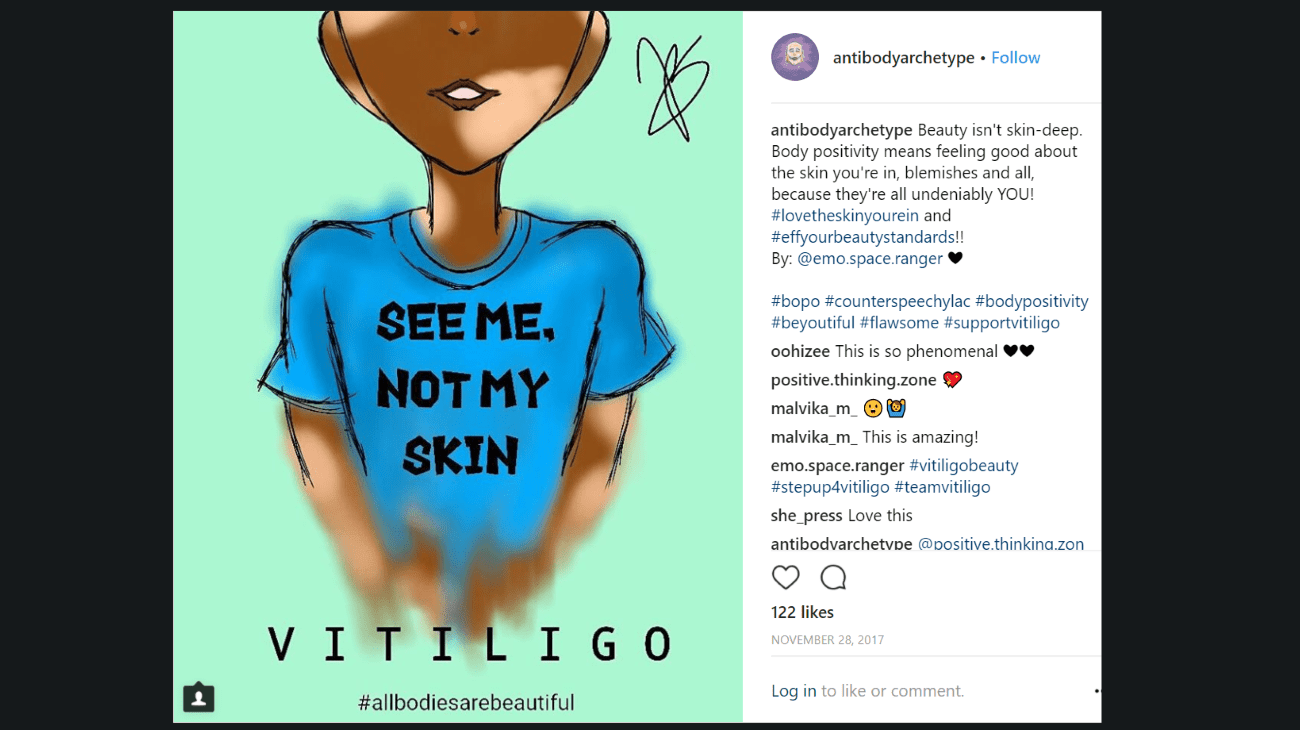 Showcase 4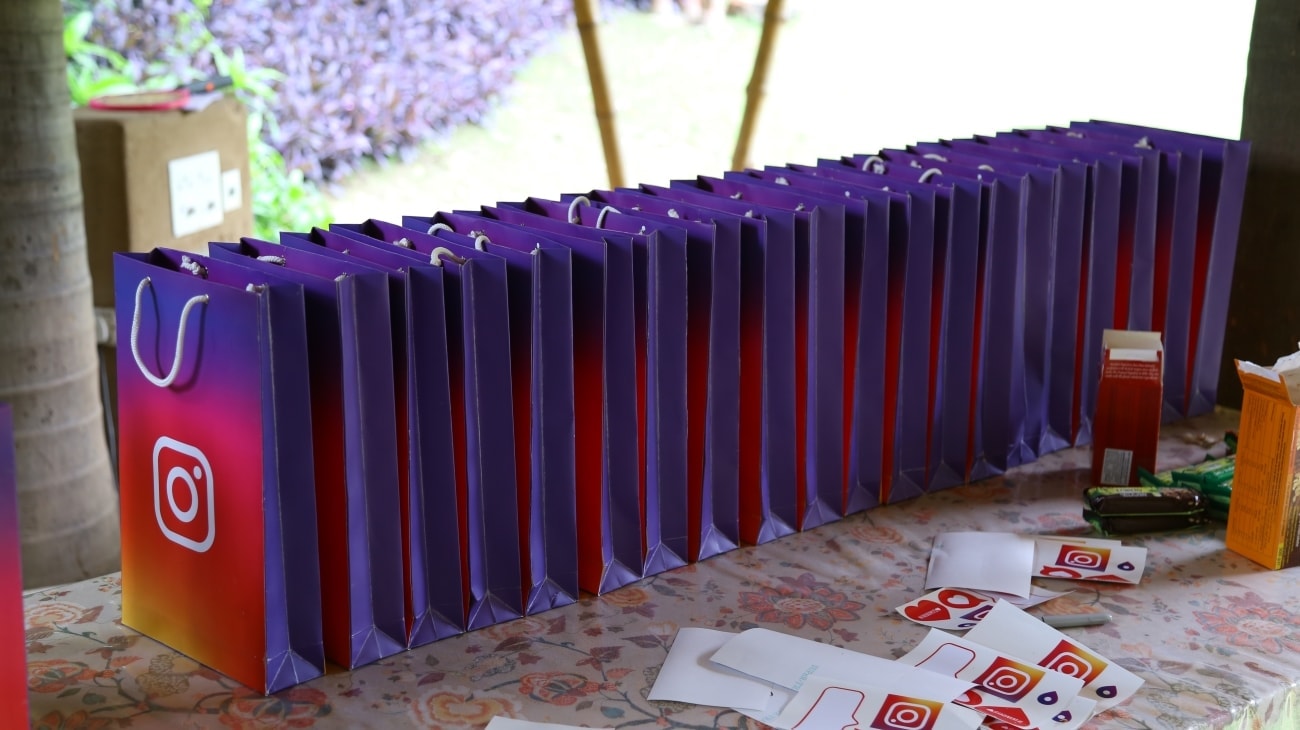 Showcase 3

As an incubator for the future generation of leaders, the YLAC Counter Speech Fellowship is a unique platform for creative teenagers to use the power of art, social media and visual storytelling to raise awareness on important issues such as gender equality and mental wellbeing.

Whether it is in the form of an introspective piece of writing, or a touching chord of music, or a striking painting, art can be a powerful medium to evoke emotion, make people reflect and inspire change in behaviour. Through the fellowship, YLAC aim to harness this potential of art and combine it with the power of social media to make the world a better place.

First launched in 2017, the Counter Speech Fellowship is today a flagship YLAC engagement that receives a large number of outstanding applications from across the country. The overall duration of the fellowship is two months and its schedule can be easily accommodated alongside regular school work and examinations.

No applications are open at this time. For information on future editions, you may browse through the tentative calendar here. You can also sign up below or follow us on social media (LinkedIn, Instagram) for updates. To know more about the fellowship and how it is structured, please see the details below.

Details for Phase II, 2022:   Themes   |   Structure   |   Schedule   |   Fellowship Pillars   |   FAQs & Time Commitment
---
Fellowship Themes for 2022



The 2022 fellowship focused on four themes: Body Positivity, Digital Safety, Teenage Wellbeing, and Diversity, Equity & Inclusion. To understand what the themes entail, please click on the links below:

The aim of this theme is to help people investigate their relationship with their own bodies, particularly when it comes to beauty standards, and its impact on how they perceive themselves. This theme explores social comparison and the pressure of having a 'perfect body', alongside strategies to tackle these issues.

The focus of this theme is to help people tap the true potential of technology by building an understanding of potential risks on the internet. Fellows are expected to create content and initiate discussions on digital threats such as cyberbullying, build awareness about data security and privacy, misinformation and fake news and educate people about the ways in which they can protect themselves from harm online.

This theme focuses on physical, mental and emotional health of teenagers. The goal is to highlight problems faced by teenagers and construct a safe and enabling environment that builds resilience and helps teenagers deal with challenges such as stress, anxiety, and depression. The theme also explores strategies that can help teenagers be more confident of their own strengths, build stronger relationships and focus on the positive aspects of life.

Diversity, Equity and Inclusion

This theme refers to building a culture where everyone, irrespective of ethnicity, religion, sexual/gender orientation, caste, socio-economic status, age or abilities etc., feels welcome to be themselves. We want fellows to explore and celebrate diversity of culture, individuals and perspectives across India and the world, and share stories of equity and inclusion.

During the course of the fellowship, the Counter Speech Fellows create content on Instagram to build awareness on the identified themes and advocate for changes. The fellows also design and implement on-ground initiatives to spread the message within their school and local community. You can see examples of the work done by previous fellows here: @counterspeechfellowship
---
Fellowship Structure

Oct – Dec 2022, Online


The fellowship's online version includes workshop sessions in large groups on alternate weekends and team mentorship sessions in smaller groups on alternate Thursday/ Friday evenings. Fellows attend one workshop session and one team mentorship session every fortnight.

Outside the sessions, fellows create social media content on the themes allocated to them and undertake local initiatives in their schools and neighbourhoods to advocate for change offline. All work is done in teams through remote collaboration during the intervening weeks. On average, a fellow is expected to commit ~10 hours per week to the fellowship. This includes workshop sessions and mentorship check-ins, as well as time spent in content creation and advocacy for the allocated themes.
---
Schedule
Oct – Dec 2022 (Indian Standard Time)

Details for Phase II, 2022:   Themes   |   Structure   |   Schedule   |   Fellowship Pillars   |   FAQs & Time Commitment
---
Pillars of the Fellowship

During the two-month long fellowship, fellows run campaigns to generate momentum for change while focusing on the three core pillars of the fellowship: Awareness, Support and Advocacy.

Awareness


Building awareness is the first step in any campaign. It starts with educating oneself, conversing with others and removing taboos. To this end, fellows leverage the Instagram platform to create content around their themes. The most promising content is promoted on Instagram to reach thousands of other teenagers across the country, and the world.


---

Support


The fellowship themes are issues that have, in some form or the other, affected most teenagers. Any call for change must therefore begin with empathy and an extension of support to those who have been adversely affected. As part of their work, the Counter Speech Fellows lend support to peers and other teenagers who reach out to them in times of distress.


---

Advocacy


The fellowship is a powerful platform for teenagers to reach out to key decision makers such as policymakers, educators and parents to get their opinions heard and ask for better support systems for themselves and their communities. Each edition, fellows also work in teams to come up with local initiatives to highlight key issues and find innovative solutions.


Details for Phase II, 2022:   Themes   |   Structure   |   Schedule   |   Fellowship Pillars   |   FAQs & Time Commitment
---
Frequently Asked Questions
1. What is this fellowship?
The Counter Speech Fellowship is an exceptional opportunity for creative teenagers to use their skills to help make the world a better place. The fellowship seeks to leverage the power of social media to give teenagers a platform to voice their opinions and advocate for changes in the society that they live in. The goal is to use art to generate awareness, build empathy and change mindsets to create a world that is inclusive and kind.
2. Why has it been instituted?
The internet is a powerful tool for teenagers to follow their interests, connect with like-minded people, build communities, and generate support for causes. YLAC and Instagram are committed to working with teens to help them leverage this powerful tool to address issues that affect them directly. By giving teens a voice and building their capacity to mobilize people for change, we hope to create a world that embraces differences and provides support to those who need it the most.
3. Am I eligible to apply?
If you are studying in a school in India in grades 8th-12th, or are being home-schooled, and are between 13 to 18 years of age, you are eligible to apply. Students who are 18 years of age but have already completed school are not eligible.
4. What are the selection criteria?
We look for passionate and creative teen leaders who wish to see the world as a more inclusive and kind place. There are no prerequisites in terms of fields of study. The final evaluation of applicants is based on their responses to the questions in a short application form.
5. How many fellows are selected?
The Counter Speech Fellowship is extremely selective, with admit rates between 20-25%. We usually select 40-50 fellows for each cohort.
In the online version of the fellowship, multiple cohorts are inducted in parallel.
6. How long is the fellowship?
The Counter Speech Fellowship is a two month commitment. After the fellowship launch, fellows meet every alternate week for a couple of hours. Applicants are advised to refer to the detailed calendar here.
7. How much time will I commit?
On average, a student is expected to commit about 10 hours per week. This includes the online workshop sessions and mentorship check-ins, as well as time spent in content creation and advocacy for the allocated themes.
8. Do I take leave from school?
No, there is no need for you to take leave from school. All workshop/ mentorship sessions are scheduled either on weekends or late in the evening on weekdays.
9. Do I need an Instagram account?
You don't need to have an Instagram account while applying to the fellowship. But, you will need to post content on Instagram handles during the fellowship, and will therefore need to get familiar with the platform to be able to contribute effectively.
10. Do I have to pay a fee?
No! This is a fully funded fellowship. Just give the fellowship your creative best. You need not worry about anything else!
11. Is there an orientation?
The YLAC team conducts a training and orientation session for the fellows on the first day of the fellowship. This session has been designed to give the fellows an overview of what the Counter Speech Fellowship has in store for them. The session is also meant to help them understand how they can contribute and what their roles and responsibilities are during and after the fellowship.
12. Who facilitates the sessions?
The sessions are facilitated by the YLAC team. During the course of the fellowship, a number of external speakers, influencers, policy makers and other guests are also invited to conduct specific sessions with the fellows. They engage and interact with the fellows on the identified issues and themes.
13. Do I get a certificate?
Yes, fellows are given a certificate of completion at the end of the fellowship and those who demonstrate leadership and produce the best content are duly recognized.
14. Is attendance compulsory?
Yes, attendance at the sessions is mandatory. Since fellows are required to work in groups, the absence of any fellow is a disadvantage to their team. Please check the schedule carefully to ensure your availability. Feel free to write to us at office(at)theylacproject.com in case you have any queries.

Details for Phase II, 2022:   Themes   |   Structure   |   Schedule   |   Fellowship Pillars   |   FAQs & Time Commitment